Fishing Charters
We offer a full day that is generally nine to ten hours. Normally we leave at 7:00am and return around 4:30pm, although the fishing hours are often extended if the fish are biting! The crew on the L&H is very flexible and will adjust times (earlier or later) to accommodate your needs. A full day trip will ensure the greatest chance for the best fishing. No matter how far the fish are or when they show up a full day will allow you to be there!
We offer two half day trips that are five hours. The morning half departs at 7:00am and returns at 12 noon. Afternoon trips leave at 12:30pm and return again at 5:30pm. With the blue waters of the gulf stream only a few miles off the coast of Key Biscayne the possibilities are endless. There have been many bountiful half day trips on the L&H including one December day when a father and son team combined to catch several large kingfish and 24 sailfish fishing in front of the Key Biscayne hotel where they were staying!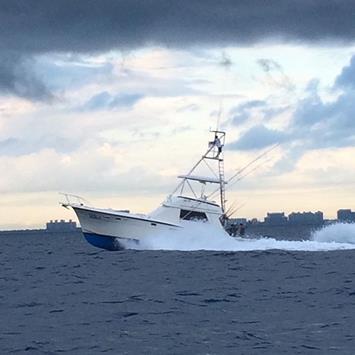 Swordfish Trips
Swordfish trips can be either day, night, or a combination. Night fishing is the traditional way to target these amazing fish and the L&H has a very long history of night time swordfish success! Normally we leave at 6:00pm and return at 3:00am, but again we are flexible and will adjust times although sometimes the fish do that for us. The past few years the L&H has also enjoyed the success of daytime sword fishing which is relatively new to our area. In fact Captain Jimmy and his crew caught over 50 daytime swordfish (several over 400 pounds) on the L&H before a single other daytime swordfish was caught by all other Key Biscayne charter boats combined!! Normally for daytime sword trips we leave at 7:00am and return around 5:00pm. Our favorite sword trip is a day/night combo! This trip allows you to fish for swords during the day and night. This is very unique because it involves two totally different fishing methods both of which are extremely successful. Some of the largest swordfish have been taken on a day/night combination trip.
Custom Trips
We can also help arrange a custom trip to fit all of your needs. Whether the Florida Keys, Bahamas or somewhere in between we can help plan a trip of a lifetime!
We can arrange a large group or convention charter as well as loan closings and document signings.