Fishing Methods
Kite Fishing
Kite Fishing is a tactic we use during the winter and spring. It involves flying two or three kites far behind the L&H in an effort to position live baits on the surface out away from the boat. This method of fishing is extremely effective on sailfish, but can be deadly on all types of fish especially tuna. When a fish is hooked on a kite rig the other live baits (as many as a dozen) continue fishing and therefore multiple hookups are the rule rather than the exception.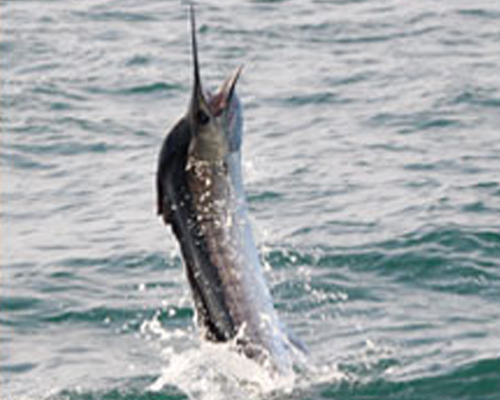 Bottom Fishing
Bottom Fishing can be done either anchored or drifting. While fishing a live, cut, or whole bait on the bottom anywhere from forty to fourteen hundred feet offshore of Miami. In shallow waters snappers can be caught with lighter tackle. Dropping several hooks in two hundred to six hundred feet can be extremely effective and one can never be sure what type of delicious fish will come up next! Bottom fishing can be done year around depending on the conditions.
---
Trolling
Trolling is one of the traditional methods of fishing off the South Florida coast. Depending on the type of fish being targeted and fishing conditions, this method can provide fast action. Just about any game fish in these waters can be taken trolling with baits either positioned on or below the surface. Some of our largest fish are taken on artificial lures as the L&H is headed to a new spot. No matter what time of year you can expect to troll at some point during the day and it can be very rewarding.
---
Sight Fishing
Sight Fishing is definitely one of the most productive methods we use! The captain and crew will position themselves high above the water in the tuna tower of the L&H and search for a variety of fish that can be swimming on the surface. Once a fish is spotted the captain can direct the anglers as to the type of fish and what size and the angler can present the perfect bait on the appropriate tackle for the fish. This fishing method is VERY exciting because the angler can often see the bite, which is sometimes the best part. Captain Jimmy is very proud to have fished with and learned from in his opinion two of the best sight fishermen there are, Captain Paul Ross and Captain John Dudas! Whether fishing for cobia, mahi mahi, sailfish, permit or others, sight fishing is often the most successful method to pursue them.
---
Day and Night Fishing
Swordfish can be taken both day and night and are definitely our largest game fish. During the daylight hours swordfish are caught while fishing a bait, on the bottom in waters as deep as two thousand feet. The L&H has caught many swordfish over three hundred pounds using this method. Normally during night time sword fishing the L&H will drift with the gulf stream using as many as seven lines baited with live or dead bait set below the surface with a light attached to attract a sword. Night fishing has and continues to produce some excellent catches including an eight fish night.
No matter what type of fishing you may be doing, you can be sure, the captain and crew are giving their best effort to achieve success!